Methodology

Open Access

Open Peer Review
Surgical management of moderate adolescent idiopathic scoliosis with ApiFix®: a short peri- apical fixation followed by post-operative curve reduction with exercises
Received: 10 December 2014
Accepted: 11 January 2015
Published: 5 February 2015
Open Peer Review reports
Adolescent idiopathic scoliosis (AIS) is a condition that affects 1%-3% of children aged 10–16 [1]. It is a structural lateral curvature of the spine with a significant rotatory component that develops in healthy teenagers around the puberty period. In its mild or moderate forms AIS pauses no health threats but may be associated with cosmetic concerns. As the name idiopathic implies, no known cause has been identified and therefore no specific treatment exists. Individuals with curves up to 20-25° are advised to exercise usually according to the Schroth method. Curves between 25-40° are braced with some kind of a thoraco-lumbar spinal orthosis. Patients with curves exceeding 40-45° are candidates for surgical intervention [1], the "gold standard" being instrumentation and fusion of 10–12 vertebrae with intra-operative forceful correction of the spinal deformity. This "gold standard" of curve correction is an extensive and irreversible surgical endeavor that stiffens the spine of adolescents who are otherwise healthy youngsters. Today's continuum of care of AIS has a steep leap from non operative care to the most extensive and complex spine surgery. This complex "gold standard" surgery is applied to different curve patterns and to various curve magnitudes in an almost identical fashion. It is obvious that we lack an intermediate surgical step that will address mild to moderate AIS curves with a less invasive and less extensive surgery, yet will provide efficient correction and control of the deformity. How to set the bar of success for such intermediate type surgery? It may be borrowed from the bracing studies where a maximum of 40-45° residual deformity is considered a success [2,3].
The ApiFix device has been developed to address this missing step and to provide an effective method of controlling the deformity. The device is implanted in a less invasive fashion and with fewer instrumented segments.
The ApiFix® system is a novel less invasive short segment pedicle screw based spinal instrumentation (3–4 disc levels). The system has a ratchet mechanism that enables gradual postoperative device elongation and curve correction by spinal exercises (Figure
1
a). The unique features of the device allow spinal instrumentation without fusion. Currently the device may be implanted in AIS patients with main thoracic or thoraco-lumbar curves, before the end of skeletal maturation.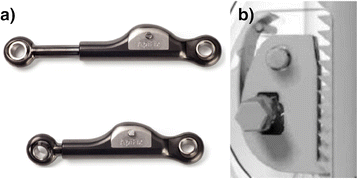 The implanted ApiFix acts as an "internal brace". Following implantation of the ApiFix system the initiation of early post operative exercises gradually corrects the spinal deformity by motion controlled rod elongation.
(1)
Israel Spine Center at Assuta Hospital, Tel Aviv, Israel
(2)
MS Curie Children's Hospital, Bucharest, Romania
(3)
Spine Unit Assaf Harofeh Hospital, Zrifin, Israel
(4)
St. Maria Hospital, Iasi, Romania
(5)
Pecsi Orthopediai Klinika, Pecs, Hungary
(6)
Orthopedic Surgery, University Hospital Zakopane, Zakopane, Poland
(7)
ApiFix, Misgav, Israel
© Floman et al.; licensee BioMed Central. 2015
This article is published under license to BioMed Central Ltd. This is an Open Access article distributed under the terms of the Creative Commons Attribution License (http://creativecommons.org/licenses/by/4.0), which permits unrestricted use, distribution, and reproduction in any medium, provided the original work is properly credited. The Creative Commons Public Domain Dedication waiver (http://creativecommons.org/publicdomain/zero/1.0/) applies to the data made available in this article, unless otherwise stated.